MAPLE LEAF GARDENS
---
MEMORIES AND DREAMS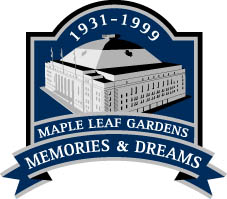 ---
Final Game - Multimedia

By Steven P.
February 13, 1999
---
Thank you for visiting my site, which is dedicated to the final Hockey Shrine in the NHL, Maple Leaf Gardens. As always, this site is under construction, and there is more to come! The day after the game, I spent the majority of my day audio-capturing, and editing, instead of doing homework, to make some audio available for you. This audio is from of the CBC Television Broadcast of the night before, and is Copyright CBC Television Ltd. The audio compilation featured below was made by me, Steven P. All of the files below require an MP3 player. If you do not have an MP3 player:

Please visit this site again, as it is updated infrequently. If you'd like to request an audio clip from the game, or have any comments/suggestions, e-mail me at stomi@hockeymail.com.

Info about me:

Name: Steven P.

Age: 16 years old, Birthdate: October 19, 1982

Location and Birthplace: Toronto, Ontario, Canada

Thank you, Maple Leaf Gardens, for all the years that you carried the Leaf games, huge events, and all of our Memories and Dreams.
---
Video Clips - From NHL.com
The ceremonial faceoff at the last game at Maple Leaf Gardens. Former Blackhawk, Harold "Mush" March, who scored the first goal at the Gardens, and Former Leaf, George "Red" Horner
Steve Thomas puts Toronto on the boards with this second period goal
A fond farewell to Maple Leaf Gardens by Paul Morris, the voice of the Gardens
---
Audio MP3s
("The Place'll be rockin', 'cause it's Saturday Night!" - MLG Edition - 1.29 megs)

(Newest version of the theme to CBC's Hockey Night in Canada - 521kb)

(Held live from Maple Leaf Gardens; sorry 'bout the ad in it - 395kb)
(This is the song that CBC aired to videoclips before and after the game - 2.44 megs)
(The above song with many memorable sound clips played throughout the game - 4.01 megs)
---

Goodbye, old friend, goodbye...